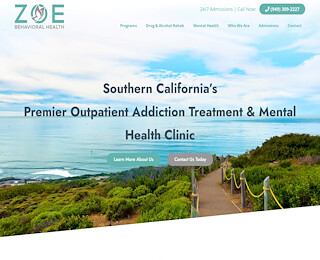 Are you looking for a licensed addiction treatment center in Orange County? Zoe Behavioral Health is a leading rehab for drug and alcohol addiction with exceptional amenities, evidence-based therapies, and an experienced staff team. Here are the top qualities that make us proud of our rehab treatment and services:
1. Multiple levels of care
Our opiate addiction treatment center in Orange County is one of the first rehabs to offer multiple care levels to patients with different needs and recovery goals. We offer drug and alcohol treatment in Orange County via:
IOP – Patients engage in several hours of treatment encompassing medical detox, counseling, holistic therapies, and behavioral modalities. The IOP treatment allows patients to return home at night after seeking treatment at our Orange County rehab during the day.
PHP – Our partial hospitalization program is ideal for those looking for a step-down level of care after several months of inpatient treatment.
Outpatient rehab – Our outpatient rehab offers the lowest level of care and requires patients to attend treatment for 1-2 hours a day. Patients engage in 1-on-1 therapies with our mental health experts, seeking to embrace sobriety one day at a time.
Ongoing care programs – These programs solidify our alumni patients' commitment to sobriety and healthy living in the long term.
We understand our patients' unique addiction circumstances and their unavoidable personal commitments and work obligations. By ensuring multiple levels of care, we help to recover addicts from seeking professional help for their substance abuse disorder amidst their busy schedules.
2. Exceptional dual diagnosis treatment 
As one of the reputed treatment centers in Orange County for dual diagnosis conditions, we use an integrated treatment approach to address co-occurring disorders and their causes. Our dual diagnosis treatment reduces our patients' risk for relapse significantly and ensures their long-term success with sobriety.
3. Non-12 step recovery
A non-12 step recovery is a secular approach for non-religious clients that do not label addiction as a "disease" like the 12-step approach. Our non-12 step recovery approach promotes self-empowerment and equips patients with critical tools to combat triggers, cravings, and stressful situations.
4. MAT program
MAT or medication-assisted treatment uses a combination of medications and behavioral therapies to help individuals embrace long-lasting sobriety. the treatment suppresses the withdrawal symptoms, reverses cravings, treats the symptoms of co-occurring mental health issues, and facilitates detoxification and long-term healthy living.
5. A seasoned team of clinicians
We offer the best quality addiction treatment and care in a world-class treatment center, with a skilled, dedicated, and experienced team of clinicians. We are one of the few Orange County rehab centers with some of the best clinicians and behavioral therapists.
Call us today at (866) 507-1048 for admission-related inquiries. ZOE Behavioral Health is a leading treatment center in Orange County with highly effective PHP, IOP, and outpatient programs. Your journey towards improved wellness is just a phone call; act now!
Zoe Behavioral Health
949-309-2227
23591 El Toro Suite 200
Lake Forest CA 92630 US