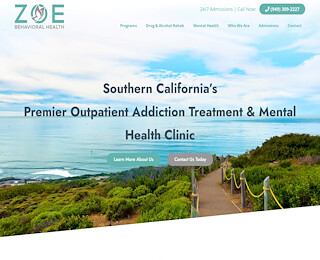 Zoe Behavioral Health offers personalized Southern California detox to cope with a wide range of substance addictions, from the more popular to the lesser-known. Our program relies on chemical detox, behavioral therapies, counseling, and aftercare assistance to help patients embrace long-lasting sobriety and healthy living. Some of the most common substances requiring medical detox at our opiate addiction treatment center include:
Prescription medication
These are generally opioids that people use as pain management pills and end up abusing them past their intended purpose. The National Institute on Drug Abuse pinpoints the fact that approximately 20% of Americans have used a prescription opioid without any prescriptions for no medical reason whatsoever. Many of them end up abusing the substance and slowly develop an addiction as a consequence.
Opioid addiction is more severe and can cause more disruptive withdrawals when compared to other substances. The only way to recover effectively is to begin the detox process as soon as possible at our Orange County rehab.
Heroin
Heroin is another drug that can inflict a potent addictive behavior with withdrawal symptoms that may last up to 3-4 weeks. The withdrawal's intensity varies depending on the addiction's severity and length, and it can become life-threatening if left untreated. Our rehabilitation program deals with even the most advanced stages of heroin addiction, helping people overcome the withdrawal and begin rebuilding their lives.
To make sure you experience minimal discomfort during the rehabilitation process, we recommend contacting our rehab team for customized Southern California detox at our treatment centers in Orange County.
Benzodiazepines
Benzos are a special class of drugs that are even useful for treating alcohol addiction, among other things like anxiety, depression, or epilepsy. Ironically, they are highly addictive when mismanaged, which many people tend to do, especially those with chronic mental issues. The withdrawal can last up to 14 days or more in some cases, with the symptoms peaking within a couple of days after cessation.
If you've been taking benzodiazepines as means to cope with advanced mental disorders, you need to come to our Orange County rehab centers for detox, rehab, and dual diagnosis treatment. The benzo addiction is challenging to combat, especially when combined with mental disorders that will impact your ability to recover and remain sober and healthy over the years.
Alcohol
Alcohol is the most common substance to inflict addictive behavior, and its uniqueness lies in the fact that it's legal to consume for adults. It is widespread and will inflict a highly debilitating addiction that will grow over time to cause extensive physical and mental damages. Alcoholism is more of a family disorder, as it affects all family members due to the addict's erratic and often violent behavior stemming from their regular alcohol abuse.
If you're facing any of these conditions, we advise contacting our team as soon as possible. Our Southern California detox program is ideal for coping with advanced addiction and hidden mental disorders, promoting stability and a healthy recovery in a supportive and safe environment.
Call ZOE Behavioral Health at (866) 507-1048 and speak to one of our professionals today. You can begin the intake process and join the drug and alcohol treatment in Orange County asap.
Zoe Behavioral Health
949-309-2227
23591 El Toro Suite 200
Lake Forest CA 92630 US