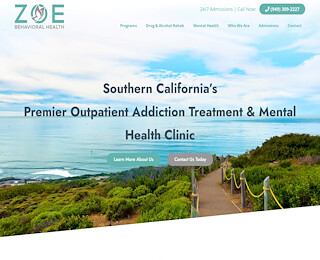 Zoe Behavioral Health is one of the highly sought-after rehab centers in Lake Forest, with hundreds of positive reviews from past clients. Here are the top five things to consider before choosing a Lake Forest addiction treatment center:
1. Focus on co-occurring mental health issues
Addiction often relates to an underlying mental health problem like anxiety, depression, PTSD, bipolar disorder, etc. Comprehensive recovery from addiction may be unobtainable if you do not take adequate measures to address your mental health issues. Make sure to seek help from one of the Lake Forest rehab centers using an integrative treatment plan to identify and address the causes of substance abuse disorder. At our Lake Forest rehab, we employ a combination of psychotherapies, holistic therapies, medication-assisted treatment, and medical detox to help patients attain a safe and sustainable recovery from addiction and co-occurring mental health issues.
2. 1-on-1 therapies and customized treatment
Look for treatment centers in Lake Forest that offer 1-on-1 therapies and provide customized addiction care to each patient in rehab. A one-size-fits-all approach hardly ever works with addiction treatment as each addiction circumstance is unique. We rely on 1-on-1 therapies to offer you private time with the therapists to confide in your deepest insecurities and share your mental health challenges, promoting solid holistic wellness. We customize our drug and alcohol treatment in Lake Forest according to each patient's unique needs and recovery goals.
3. Modern amenities and comfortable accommodations
Besides advanced treatments and therapies, you must join a rehab with the best amenities and accommodations. It can get difficult to focus on recovery and the rehab treatments in a chaotic or sub-standard rehab facility. Look for a treatment facility ensuring a clean, serene, and comfortable atmosphere for its residents/clients. Join a rehab with private rooms, gourmet meals, and modern amenities to feel relaxed and entertained during non-treatment hours.
4. Aftercare programs
Ongoing care is crucial for recovering addicts after completing inpatient, PHP, or IOP programs. Aftercare programs engage patients in counseling, support group meetings, and psychotherapies once a week or twice a month. These programs solidify your commitment to sobriety in the long term and enable you to heal and recover from addiction via peer support and sober fellowship. Make sure to join a rehab that ensures the best aftercare programs for its alumni patients.
5. Accredited and experienced staff
Without an experienced and dedicated team of clinicians, recovery may be nearly impossible. We have some highly qualified physicians, RNs, therapists, and social workers, who play an integral role in our patients' recovery journey. Our team of clinicians works closely with our clients, monitors their progress to treatments and therapies, creates customized recovery goals, and encourages them consistently to attain sobriety.
Reach us at (866) 507-1048 to learn more about one of the top rehab centers in Lake Forest. As the #1 treatment center, Zoe Behavioral Health offers 1-on-1 therapies in private and group settings and ensures a safe, speedy, and comprehensive recovery for patients battling dual diagnosis conditions.
Zoe Behavioral Health
949-309-2227
23591 El Toro Suite 200
Lake Forest CA 92630 US