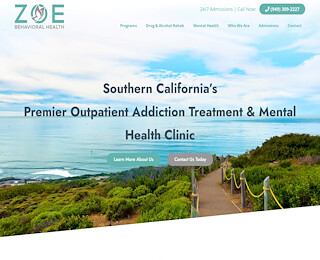 If you are among the many Americans affected by alcohol use disorder, ZOE Behavioral Health offers the treatment you need to defeat your addiction. Our Lake Forest addiction treatment center provides a safe space for you to receive quality care.
The primary focus of our therapies and services is healing the body, mind, and soul. Depending on your addiction's severity, you may benefit from our outpatient care to treat your alcoholism. In this post, we'll talk about outpatient treatment programs and why it's advisable to enroll yourself in one.
Who Is A Candidate For Outpatient Treatment?
An outpatient treatment program is a good step for addicts who do not require intensive care and monitoring or have either completed an inpatient program. You will meet with our admissions advisor before starting any new treatment, who will ask you some questions about your alcohol consumption and conduct other screenings to determine the level of care you will need. Factors that may influence our outpatient treatment decision include:
Your readiness to change and engage in treatment
The presence of any severe medical conditions
Whether you are struggling with co-occurring medical issues
Whether you are at risk of acute alcohol withdrawal (i.e., experiencing uncomfortable symptoms when you stop drinking) 
You might require a more intensive form of outpatient care or an inpatient stay in these cases.
What To Expect In Our Outpatient Treatment
The idea of entering an outpatient program can be scary. At ZOE Behavioral Health, we try to make it as flawless as possible. When you arrive at our Lake Forest addiction treatment center, we'll access you to determine the level of your addiction. You will undergo a physical exam to determine any possible mental disorders you might have and medical history. This will help us formulate a plan specific to your needs.
Depending on your addiction's severity, we may advise that you undergo a medically supervised detox before entering our outpatient treatment to ensure that your withdrawal occurs in a safe, alcohol-free environment. Our specialists are available 24/7 to ensure that your detox experience goes smoothly.
Why Outpatient Treatment
It's advisable to enroll in our outpatient treatment program if you are willing and ready to participate in the recovery process. When you enroll in our outpatient treatment, you will enjoy several benefits, which include: 
Recovering from your alcohol addiction and taking back control of your life.
You will be able to live at home and go to work or school while attending treatment.
If you enroll in our outpatient program, you will be able to take care of your daily responsibilities.
The cost of outpatient treatment is less, which means a lesser financial burden on you.
Outpatient Treatment Program With ZOE Behavioral Health
An outpatient treatment program with ZOE Behavioral Health is tailored to meet every patient's specific needs. If you're willing to seek treatment for alcoholism with us, call our hotline at (866) 507-1048 to speak with our representative, who can answer any questions you have about your treatment option.
Zoe Behavioral Health
949-309-2227
23591 El Toro Suite 200
Lake Forest CA 92630 US