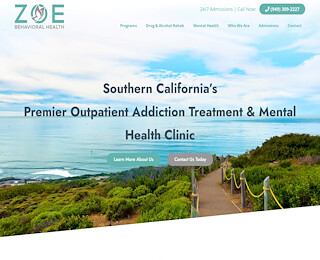 Zoe Behavioral Health is one of the top Orange County detox centers with world-class amenities and the best quality addiction treatment and care. We offer highly effective medical detox treatment in a fully-equipped upscale facility with multiple positive reviews. Here's how you can choose the right detox center:
1. Flexible treatments
Not everyone can afford or allocate time for inpatient treatment. Make sure to choose an opiate addiction treatment center that offers multiple care levels, such as inpatient rehab, outpatient therapy, IOP, PHP, sober living, etc. By choosing a rehab with different rehab programs, you can easily transition from one program to another as you gradually progress in your recovery journey. As a leading Orange County rehab, we follow a flexible treatment approach to accommodate each patient's unique medical needs.
2. Customized treatments
Beware of rehabs that offer recovery via one-size-fits-all approaches. Every addiction circumstance is unique because it demands personalized care and individual attention. Focus on finding a rehab center that creates a customized treatment plan for each patient during intake. Without a tailor-made treatment plan, you are at a high risk of relapse, and comprehensive recovery from dual diagnosis conditions may remain unreachable. Make sure to join a rehab that modifies its drug and alcohol treatment in Orange County to address your unique addiction circumstance.
3. Accredited and experienced clinical team
Do your fair share of research about the leading Orange County rehab centers to shortlist the one with the best staff team. Physicians, therapists, and RNs usually play an integral role in your recovery journey. Without an experienced clinical team, you may receive subpar treatment, which can cause relapse within a couple of days after rehab. Besides, it takes a compassionate clinical team to motivate and guide you towards sobriety and help you attain comprehensive recovery. Learn about the clinical team's experience, educational qualifications, skill-level, certifications, etc., before joining your treatment program of choice.
4. High-end amenities and comfortable accommodations
Look for treatment centers in Orange County with modern amenities, comfortable accommodations, and nutritious meals. Seek treatment in a serene and calming environment far from your day-to-day life stressors is crucial to help you place your undivided focus on healing and recovery. Make sure to join a rehab that offers a tranquil ambiance, ideal for deep relaxation.
5. Evidence-based therapies following detox
The detox process alone isn't enough to help you overcome addiction and the underlying mental health problems. Medical detox often is the first stage in the recovery process, allowing you to address both your addiction condition and any mental health issues that may impair your ability to remain sober long-term. You must join a rehab that offers counseling, psychotherapies and conducts support group meetings after detox to help patients embrace sobriety and attain improved mental wellness.
Contact Zoe Behavioral Health at (866) 507-1048 to seek treatment from one of the top Orange County detox centers. As a pioneer treatment facility for substance abuse treatment, we offer unsurpassable medical care and support to patients battling different addictions. For more details on our detox treatment, get in touch with us today.
Zoe Behavioral Health
949-309-2227
23591 El Toro Suite 200
Lake Forest CA 92630 US