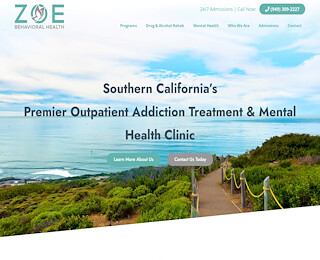 At Zoe Behavioral Health, we offer opiate detox in Orange County with a dedicated and compassionate staff team. With the best opiate detox program in Orange County, we ensure that the detox process is comfortable and as pain-free as possible.
Opiate withdrawal symptoms
Patients typically experience withdrawal symptoms such as agitation, anxiety, muscle spasms, insomnia, and runny nose within 24 hours of their last opiate use. Some patients also experience sweating, abdominal cramps, stomach aches, diarrhea, and constricted pupils.
You must seek help from an opiate addiction treatment center to safely manage the withdrawal symptoms. Failing to seek detox from one of the licensed Orange County rehab centers in the early stages of your addiction can worsen your substance abuse disorder and put your life at grave risk.
How long does opiate withdrawal last?
Patients typically experience four stages of withdrawal when recovering from opiate addiction. These include:
Anticipatory withdrawal symptoms – These last for 3 – 4 hours and start within a few hours of your last dose. Increased anxiety, fear, cravings, and other psychological withdrawal symptoms are common in this phase.
Early acute – It ends 8 – 10 hours after the last dose, with patients typically experiencing anxiety, restlessness, nausea, vomiting, sweating, and stomach aches.
Fully-developed acute – This phase begins after the early acute withdrawal symptoms and lasts for 1 to 3 days after the last dose. During this phase, symptoms reach their peak, and patients experience body tremors, muscle spasms, increased blood pressure, cravings, insomnia, etc.
PAWS – This is the last stage and can last for up to 24 months after quitting the drug. Patients experience mood-swings, cravings, anxiety, depression, irritability, and insomnia. Recovering addicts are more vulnerable to triggers and drug cravings in this stage and are at a high risk of relapse.
We offer the best detox at our Orange County rehab to help patients overcome these withdrawal symptoms safely, without much physical or mental distress. By reducing the severity of withdrawal symptoms, we ensure the safe, successful, and speedy recovery of our patients from their substance abuse disorders.
Our opiate withdrawal treatment process
Our doctors prescribe specific medications during the detox process to treat the long-term issues alongside opiate withdrawal symptoms. Our treatment centers in Orange County help with tapering down the dosage of these medications over time and ensure our patients' safe recovery from the withdrawal symptoms. We begin the detox process with a comprehensive physical and mental health evaluation to create a customized treatment plan for each patient. We then stabilize the patients and prepare their entry into treatment by educating them on what to expect during detox.
Our top rehabs for drug and alcohol treatment in Orange County rely on clonidine, methadone, and buprenorphine to suppress the withdrawal symptoms. These drugs also reduce opioid cravings and prepare recovering addicts for other rehab treatments and therapies.
Get in touch with one of us at Zoe Behavioral at (866) 507-1048. Our opiate detox in Orange County has reformed the lives of numerous individuals battling addiction by helping them attain comprehensive recovery and improved mental wellness.
Zoe Behavioral Health
949-309-2227
23591 El Toro Suite 200
Lake Forest CA 92630 US