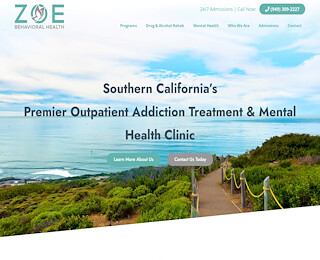 Most drug and alcohol rehabilitation centers in the United States use 12 steps programs for addiction recovery. The 12 steps originated from Alcoholic Anonymous, an organization of peer groups for those recovering from alcoholism. Formed in the late 1930s, these steps give guidelines on how to overcome alcohol addiction. Over time, similar programs have been adapted to fight addiction to other addictive substances.
While 12-step programs help some achieve lasting recovery, they don't work for everyone. That is why it's important to consider alternative non-12-step recovery programs. At Zoe Behavioral Health, we offer the finest non 12 step recovery programs in Lake Forest. Through these, we give our guests the best chance at recovery without forcing them to endure an approach that isn't perfect for their specific needs.
The Differences of Traditional 12 Step Rehab and Our Non 12 Step Rehab
The 12-step programs have been around for almost a century, and their popularity has made them the standard for many recovery peer groups. However, the less popular non-12-step alcohol and drug rehab has proven to be more effective for some individuals.
As an addiction treatment center, we opted for non 12 step drug and alcohol rehab as we felt it was most ideal for our guests. Here are two ways our premier non 12 step programs differ from the traditional 12 step rehab:
12 Step Programs Have a Spiritual Base, While Ours Don't
12 step programs instruct participants to accept that only God or a higher power can help them overcome their addiction. This is suitable for people with religious or spiritual affiliations.
But for atheists and agnostics, this approach makes the program less than ideal. When you cannot believe in the primary base of a program, it becomes impossible to benefit optimally from its teachings.
Our non 12 step alcoholics anonymous options don't subscribe to any religious or spiritual beliefs. They are, therefore, more inclusive, allowing members to participate without relying on a higher power.
Our Non 12 Step Rehab Believes in Power Over Addiction, while 12 Step Programs Don't
The first guideline in 12-step recovery programs is that you should admit powerlessness over your addiction. Your goal is to seek ways of managing your substance dependence throughout the program but never believing you can control it.
Our unsurpassed non 12 step rehabilitation supports the belief that you can control your addiction and become self-reliant. This mentality can help you fight your substance dependence with more confidence than when you feel that addiction has power over you.
With non 12 step holistic alcohol and drug rehab, you're neither at the mercy of your addiction or a higher power. Instead, you're in control of the situation and learn that you have the ability to change the thoughts and behaviors that fuel your substance use.
Regain Control of Your Life with Our Help
Long-term and excessive consumption of alcohol or drugs leads to an uncontrollable addiction. Fortunately, you can take back control by seeking treatment that fixes the brain and body damage caused by addictive substances. Our second to none non 12 step recovery programs in Lake Forest can be a great way to achieve this. Contact Zoe Behavioral Health for 24/7 admissions: (866) 507-1048.
Zoe Behavioral Health
949-309-2227
23591 El Toro Suite 200
Lake Forest CA 92630 US