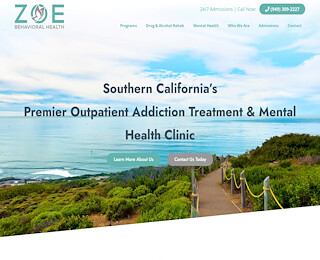 Most people see addiction to alcohol or drugs as being out of their control. However, it's a chronic disorder, and you're not powerless, and that's the philosophy on which non-12-step recovery programs are based on. While you may not be able to quit with only your willpower, you can use that willpower to choose how you want your life to be, including regaining your freedom.
At ZOE Behavioral Health, we never see our guests as victims. To us, they are warriors who can overcome their battle with addiction. With the help of our non-12-step recovery in Lake Forest programs, you can find the strength you need to fight off the addiction
5 Benefits of our Non-12-Step Drug Recovery Programs
Below are the advantages of joining our non-12-step program:
Our program is Highly Individualized
12-step recovery programs are usually based on concrete steps. On the other hand, our non-12-step holistic alcohol and drug rehab programs are customized to each client's physical and mental health needs, history, lifestyle, and more. At Zoe Behavioral Health, we acknowledge that addiction is a result of risk factors in your life, including social, genetic, negative influences, and mental health concerns. That is why our non-12-step drug and alcohol rehab entails a combination of approaches personalized to your recovery needs.
We Provide Structured Treatment
Our non-12-step alcoholics anonymous program offers structure. We know how addiction feeds on instability. As you continue to consume more alcohol or drugs, you start to neglect important responsibilities in your life in pursuit of the next buzz. By the time you go for treatment, your life will be plagued with instability. During this period of uncertainty, structure is crucial. Our non-12-step alcohol and drug rehab provides some much-needed structure that will restore balance in your life.
Our Program Encourages Personal Responsibility
We don't focus on submitting to a higher power, unlike 12-step recovery programs. Ours is inherently non-religious. Rather, we work to shift the power back into your hands. We acknowledge the control addiction has over you, but we don't consider your substance use as the core of all your problems.
We uncover and address the root cause of your addiction like mental health disorders, trauma, environmental issues, and unresolved anger. But this isn't a blame game—it's all about healing. We place the responsibility on you to work with our addiction treatment specialists to overcome your substance use disorder and maintain lasting sobriety.
We Offer Dual Diagnosis Care
The fact is, alcohol or drugs are not solely responsible for your addiction. Mental health disorders like depression and PTSD commonly occur alongside addiction. They may result from it or cause it. Whichever the case, for you to create a strong foundation for a substance-free life, your co-occurring disorder must be treated simultaneously with the addiction.
Peer Support is Part of Our Non-12-Step Program
Group support is an essential part of treatment. Listening to other people's coping skills that work and success stories can inspire your own recovery. Group time with our other guests will also keep you grounded and accountable even when the going gets tough.
Expert Addiction Treatment Specialists
Addiction treatment doesn't come packaged in pills. It relies on comprehensive, evidence-based treatment modalities and a particular mindset that can be unlocked by our professional team. If you're battling an addiction, our non-12-step recovery in Lake Forest programs can help you find healing and wholeness. Contact ZOE Behavioral Health for 24/7 admissions: (866) 507-1048.
Zoe Behavioral Health
949-309-2227
23591 El Toro Suite 200
Lake Forest CA 92630 US