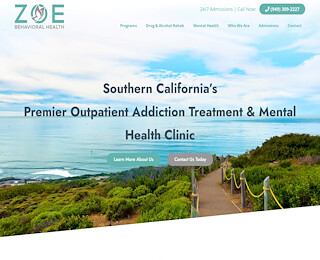 Recovering from addiction could be very difficult, which is why you need all the help you can get from friends, family, and experienced caregivers. As you journey through the struggles of abstinence, either from alcohol or drugs, you must have qualified therapists, medical professionals, and others who genuinely care about your growth and can provide what you need.
The founders of Alcoholics Anonymous founded the 12 step addiction recovery program. However, it doesn't necessarily work for everyone. Our Non-12-step alcohol and drug rehab were explicitly designed with everyone in mind for holistic and complete healing.
What we offer for addiction treatment and recovery
We understand that recovery from addiction is not one size fits for all, and what works for a person might not work for another. We offer a carefully curated program for each of our clients, regardless of their recovery stage.
Addiction is not a disease, and this is why we use a non 12 step holistic alcohol and drug rehab to plan treatment.
Attention is given to holistic wellness and health with methods such as outdoor therapy, art, music therapy sessions, yoga, nutrition and exercise programs, and other beneficial programs for self-development, which motivates you to become sober forever.
Differences between the 12-step and Non-12-step addiction treatment programs
As much as both addiction treatment methods work, it is crucial to know the differences between both programs to choose the one that suits you best. The differences between these programs include:
12 step program involves religious undertones while the latter does not.
The non 12 step program asserts that everyone has a personal journey on addiction treatment.
The non-12-step recovery teaches a holistic approach to recovery, i.e., all states of the body, mind, soul, or complete healing.
The non 12 step drug and alcohol rehab encourages support groups but maintains each person's individuality on the path to recovery.
Why you should choose our non 12 step addiction recovery program
There are programs ready and targeted to meet your specific needs and provide personalized treatment and care.
We've designed all our treatments to tackle your addiction on your own for an in-depth analysis of the whys, so you can get answers on how to stop them.
Our designated therapies, counseling, yoga, and other spirited activities place you on your way to a life-long commitment to sobriety.
We provide 100 % support and care to everyone without judging or prejudice. With a team of qualified and knowledgeable staff, you know you are in great hands, whether you are choosing an inpatient care program, partial hospitalization program, or outpatient service.
With various therapy components such as group therapy, individual therapy, art therapy, etc., we make it easier for our clients to find their niche and what works for them as a coping mechanism through abstinence and sobriety.
Like the alcoholics anonymous program, the non 12 step alcoholics anonymous and other drug rehabs ensure that you are no longer dependent and addicted to a substance.
The effects of that include peace of mind, healthy body, mind, and soul, and a sense of overcoming and strength that every substance abuse survivor experiences.
If you are in the loop of addiction, take a chance to choose your life and kickstart a life full of sobriety and healthy living. Contact ZOE Behavioral Health for 24/7 admissions: (866) 507-1048.
Zoe Behavioral Health
949-309-2227
23591 El Toro Suite 200
Lake Forest CA 92630 US