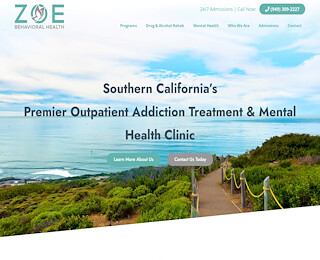 Did you know that addiction often stems from an underlying mental disorder? Zoe Recovery offers unsurpassable addiction care and mental health treatment in Lake Forest with a highly skilled team of psychiatrists, behavioral therapists, physicians, and RNs. Our customized treatment plans help us identify and address co-occurring mental health problems present alongside addiction.
Importance of seeking treatment for dual diagnosis
Dual diagnosis is a condition defined by a co-occurring mental health problem accompanying addiction. A whopping 45% of individuals battling addiction suffer from dual diagnosis. Addiction often stems from an underlying mental disorder like anxiety, depression, PTSD, bipolar disorder, etc. Addicts must seek treatment for dual diagnosis if they choose to attain comprehensive recovery from substance abuse disorder.
As a specialized dual diagnosis Lake Forest addiction treatment center, we use medication-assisted treatment, non-12-step recovery programs, and other evidence-based treatments to identify and treat psychiatric problems. By using an integrative treatment plan, we help patients attain holistic recovery from their physical, mental, and behavioral health ailments. Failing to seek help for your mental health problems/dual diagnosis from a licensed Lake Forest rehab can increase your risk for relapse down the road.
Top reasons to choose us for mental health treatment in Lake Forest
With so many rehab treatment centers in Lake Forest, it is not uncommon to have difficulties choosing the right one. As one of the leading Lake Forest rehab centers, here is why we are ideal for mental health treatment:
We have a competent, qualified, and experienced staff team who work relentlessly to assist patients in their journey towards sobriety and improved mental wellness.
Our proven techniques like medication-assisted treatment and non-12-step recovery programs help patients recover from dual diagnosis conditions.
Our multiple addiction care levels, such as IOP, PHP, medical detox, outpatient therapy, and sober living arrangement, cater to the unique needs of recovering addicts struggling with different types and severities of addiction.
Our customized drug and alcohol treatment in Lake Forest has helped numerous individuals find their path to sobriety and lead healthy, happy, and fulfilling lives. Set in a breathtaking location, our facility creates a safe, serene, and supportive environment for our clients to help them focus on recovery.
Addiction and underlying mental health problems 
An underlying mental health problem often becomes the triggering factor for drug or alcohol abuse in over 45% of addicts. Patients diagnosed with mental disorders like anxiety, depression, schizophrenia, and post-traumatic stress disorder often abuse drugs or alcohol for a breath of relief from their psychological symptoms.
Unfortunately, using drugs or consuming alcohol further worsens their mental health, leading to extensive health problems along the way. Seek help from a rehab facility at the earliest if you believe you or your loved one has a dual diagnosis.
Call Zoe Recovery at (866) 507-1048 to learn more about our mental health treatment in Lake Forest. As the pioneer treatment facility for addiction and mental health illness, we offer the best quality medical care and personalized support to each patient at our rehab. For more information, get in touch with us today!
Zoe Behavioral Health
949-309-2227
23591 El Toro Suite 200
Lake Forest CA 92630 US