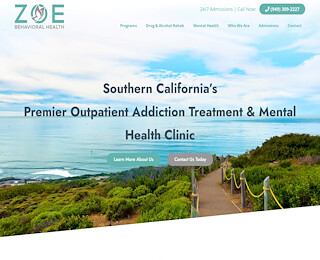 Are you looking for medical assisted drug treatment in Lake Forest? Zoe Behavioral Health is a preeminent addiction rehab with the lowest relapse rates and excellent IOP, PHP, outpatient therapy, and sober living programs. Our approach on underlying mental health issues and customized therapies make us the #1 addiction treatment center in Lake Forest.
What is the medication-assisted treatment for addiction?
Medication-assisted treatment (MAT) addresses substance use disorders using medications, counseling, and behavioral therapies. It follows a whole-patient approach and we tailor it to meet each patient's unique needs. This FDA-approved substance use treatment is clinically driven and helps patients overcome the unpleasant withdrawal symptoms safely.
MAT is particularly effective in patients suffering from opioid addiction as it rebalances the brain's chemistry and blocks the drug's euphoric effects. It also relieves the physiological withdrawal symptoms and cravings, normalizes body functions, and helps patients lead a healthy, sober, and gratifying life after detox.
What are the benefits of medication-assisted treatment?
MAT is an ideal treatment option for those suffering from opioid and alcohol addiction conditions. Some of the benefits of MAT include:
It yields effective results
Unlike other addiction treatments, MAT does not follow a one-sided approach. MAT uses a combination of behavioral therapies along with medications, to address even the most severe addictions. Seeking support from medications while undergoing psychological treatment makes MAT more effective for patients battling dual diagnosis conditions.
While drug and alcohol treatment in Lake Forest is costly, MAT is a more affordable treatment option. MAT's cost is more flexible as the medications used can vary based on your addiction's severity and co-occurring mental health issues.
MAT is ideal for patients undergoing residential, IOP, PHP, and outpatient treatments. It offers more freedom regardless of the type of treatment patients choose and helps them overcome the lingering symptoms of post-acute withdrawal syndrome (PAWS) safely after rehab.
We are one of the few Lake Forest rehab centers to offer MAT with a highly trained and dedicated staff team. As a pioneer Lake Forest addiction treatment center, we follow up MAT with psychotherapies, holistic therapies, and support group meetings to best patient outcomes.
Top reasons to choose us for MAT 
The experienced clinicians at our Lake Forest rehab make it easy for recovering addicts to overcome substance use disorder with our award-winning MAT approach. Ranked among the top treatment centers in Lake Forest, we offer around-the-clock medical care to all our patients in a fully equipped, state-of-the-art facility. 
We have the best team of clinicians who offer personalized care and individual attention to each patient. Besides, we customize our MAT program to accommodate each individual's unique physical and mental health needs in rehab. Our tailor-made MAT treatments yield the best patient outcomes and reduce the risk of relapse significantly in the long term.
Contact Zoe Behavioral Health at (866) 507-1048 for more details on our medical assisted drug treatment in Lake Forest. Using individualized therapy sessions, counseling, and targeted educational services, we help individuals struggling with addiction conditions attain a safe and speedy recovery.
Zoe Behavioral Health
949-309-2227
23591 El Toro Suite 200
Lake Forest CA 92630 US