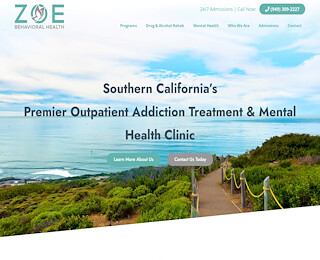 Zoe Recovery is a luxury rehab in Orange County with high-end amenities, gourmet meal options, and comfortable accommodations. We offer highly effective and life-transforming PHP, IOP, and detox treatment at our upscale facility with a team of skilled, experienced, and dedicated clinicians and therapists.
Benefits of seeking professional help from a luxury rehab
Once you decide to seek help from a Lake Forest rehab, it is critical to choose the best treatment facility for your recovery journey to get the best bang for your buck. Joining a luxury rehab for your addiction treatment can offer the following benefits:
While the recovery journey is no fun ride, getting to stay in a high-end rehab facility with luxury amenities can reduce the discomfort and the pain you experience in your journey towards sobriety.
Luxury Lake Forest rehab centers offer a relaxing and serene environment, ideal for healing and recovery from addiction and your mental health problems.
Most luxury treatment centers in Lake Forest use several holistic therapies and non-12 step recovery programs, such as nutrition therapy, yoga, meditation, massage therapy, etc., to help residents embrace sobriety and improved mental wellness. By seeking help from a Lake Forest addiction treatment center, you can enjoy better peace of mind and deep relaxation.
Leading rehabs ensure that your journey towards sobriety is not a bumpy ride. Besides, these facilities pamper you with luxury accommodations, gourmet meals, and upscale amenities, making you develop a higher regard for life and the world around you.
What are the steps involved in rehab treatment?
The steps involved in the rehab treatment process differ from one rehab to another. Typically, rehab treatment begins with medical detox, followed by counseling, psychotherapies, holistic programs, and support group meetings.
You will have private time with your therapist to discuss your insecurities, traumatic memories, and other things that prevent you from leading a sober life. The rehab treatment also encompasses group therapies and meetings, which will offer you plenty of opportunities to meet new people, develop meaningful bonds, and overcome addiction with peer support.
Why our luxury rehab is a necessity and not a luxury?
Like they say, 'it is not about the destination, it is about the journey,' and the same applies to our addiction treatment. While our goal is to help each of our residents attain sobriety, we also care about the things they learn, adapt, and let go throughout their journey. Our luxury rehab is an absolute necessity for anyone who whole-heartedly wishes to relinquish their evils and start afresh. Our premier drug and alcohol treatment in Lake Forest benefits recovering addict in the following ways:
Identifies addiction's causes and addresses them with MAT, evidence-based therapies, and non-12-step recovery programs.
It equips recovering addicts with critical coping skills to help them fight cravings, triggers, and stressful circumstances after their time at our rehab.
Solidifies our residents' commitment to sobriety in the long term and helps them lead healthy, sober, and gratifying life.
Call Zoe Behavioral Health at (866) 507-1048 to join our luxury rehab in Orange County. With world-class premises and modern amenities, we offer unsurpassable addiction care and medical support to patients and help them embrace sobriety. Call us to learn more about our treatments and therapies.
Zoe Behavioral Health
949-309-2227
23591 El Toro Suite 200
Lake Forest CA 92630 US