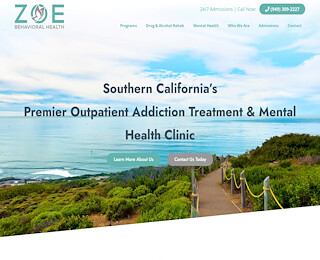 Different forms of treatment exist to tackle alcohol and drug addiction. These include inpatient or residential, partial hospitalization, intensive outpatient, and outpatient programs. When you visit a rehab facility, an addiction specialist will evaluate you and recommend the ideal treatment program for your unique recovery needs.
At Zoe Behavioral Health, we're a top-rated IOP Rehab in Lake Forest committed to helping you overcome addiction. IOP at our facility is more intensive than outpatient treatment but less demanding than residential programs. Despite the differences, we provide second to none drug and alcohol treatment in Lake Forest during IOP treatment like with our other programs.
About Our IOP Rehab Program
The IOP program at our leading Lake Forest addiction treatment center is perfect if you:
Have gone through detoxification and wish to receive therapy and counseling services.
Require intensive care but cannot remain at an inpatient program for the duration of your treatment.
Are transitioning from an inpatient program.
We're created a welcoming and serene atmosphere where our clients can rejuvenate and relax as they recover. IOP gives you the opportunity to adjust to life outside rehab after completing residential treatment. While you'll come for treatment a few hours for several days each week, you will spend the rest of your time at home. This will allow you to apply your newly acquired skills in a normal life setting.
The addictions we treat in IOP include alcohol, heroin, prescription painkillers, cocaine, and benzodiazepines. We tailor each aspect of our IOP program to your recovery needs in order to achieve the best results.
Our IOP Rehab Services
As one of the unsurpassed treatment centers in Lake Forest, we use evidence-based, holistic treatment modalities, including therapy. Therapy entails sessions with our psychologist who will help you find the connection between your thoughts, behaviors, and substance use disorder and work to resolve your issues.
As part of therapy, we include group activities, outdoor therapy, and educational seminars. Our activities are all designed to teach you more about achieving and maintaining sobriety even after rehab.
Besides therapy, we also offer counseling, another service that's highly effective in treating addiction. Our counselor will assist you in addressing the issues in your life that act as drug use triggers. You will learn crucial coping mechanisms to help you not to start using whenever you face a challenge.
IOP treatment services at our Lake Forest rehab include well-defined treatment protocols with measurable milestones to track as well as to measure your progress. Some of the benefits of our intensive outpatient program include:
It's more affordable than residential rehab treatment.
You'll be able to maintain your daily responsibilities.
IOP is as equally effective as inpatient treatment and is ideal for those with moderate addiction.
Unexcelled Intensive Outpatient Treatment
We offer one of the best IOP programs you can find in Lake Forest rehab centers. When you first come to our IOP Rehab in Lake Forest, you'll undergo a comprehensive evaluation before we create a proven, customized treatment plan for your successful recovery. Contact Zoe Behavioral Health for 24/7 admissions: (866) 507-1048.
Zoe Behavioral Health
949-309-2227
23591 El Toro Suite 200
Lake Forest CA 92630 US