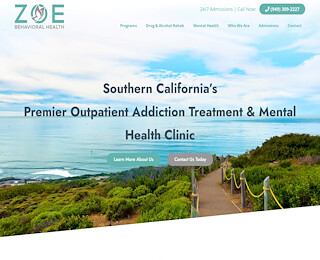 Excessive consumption, inability to quit using despite the negative consequences, and engaging in risky behavior are some of the characteristics of drug and alcohol addiction. When you have a substance use disorder, you're likely to lose healthy relationships, ignore your responsibilities, and prioritize drugs over everything else. These behaviors lead to a deterioration of your emotional and physical well-being. Feelings such as anxiety, guilt, fear, and hopelessness become frequent. Physically, you'll be less energetic and neglect your health.
Drug and alcohol treatment in Orange County can help you overcome the harmful habits associated with addiction. At Zoe Behavioral Health, we offer unexcelled IOP drug rehab in Orange County to our guests. We've planned this program to boost their recovery through healing techniques that promote physical and mental healing.
Our IOP Drug Rehab
Like other treatment centers in Orange County, we use therapy and counseling services to fight drug dependence. In addition, we include yoga classes and prioritize nutrition during intensive outpatient rehabilitation.
Addiction robs you of control over your emotions and thought process. This is due to the chemical changes in your brain as addictive substances interfere with the neurotransmitters. Addiction also damages your self-confidence, creating a negative self-image.
We use yoga to help you re-establish healthy neural function in your brain and restore control over your thoughts and feelings. Moreover, yoga enables a connection of the body and mind to improve self-awareness.
Becoming more self-aware is instrumental in Orange County rehab as it allows you to recognize the impact of substance use on your body. During yoga sessions at our top Orange County addiction treatment center, you get the chance to focus on yourself and understand your body better. With more yoga practice, you'll be able to take control of your thoughts and emotions and be less vulnerable to triggers and cravings.
Nutrition in Our IOP Treatment
Most people with a substance use disorder are malnourished. First, this happens because as drugs take priority in their lives, they don't focus on healthy eating. Secondly, drugs and alcohol inhibit the absorption of essential nutrients in the body, including calcium, magnesium, and folate.
Nutritional deficiency weakens and causes damage to multiple systems in the body like the digestive, immune, nervous, and skeletal systems. Overcoming addiction is harder when your health is compromised in this way.
Therefore, as part of our IOP treatment, we give you access to a nutritionist to help you create the right diet plan. With the right foods, you'll feel more energetic, have an improved mood, and your body will be able to detoxify efficiently.
Proper nutrition also nourishes the brain, supports the growth of new cells, and improves your cognitive function. Paired with yoga practice, this provides you with the mental clarity, focus, and strength required to battle substance dependence.
Top-Rated Addiction Treatment
At Zoe Behavioral Health, we provide second to none addiction treatment you'd be hard-pressed to find in other Orange County rehab centers. With yoga and proper nutrition complementing our unsurpassed therapy services, our IOP drug rehab in Orange County is one of the finest around. Contact Zoe Behavioral Health for 24/7 admissions: (866) 507-1048.
Zoe Behavioral Health
949-309-2227
23591 El Toro Suite 200
Lake Forest CA 92630 US