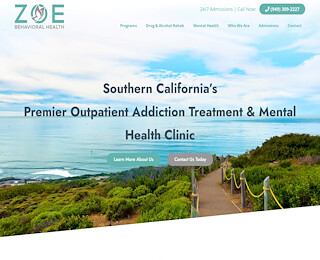 Heroin addiction can have significant effects on users' health. Seek help for heroin addiction. Although treatment is essential for recovery from heroin addiction, sudden, unsupervised withdrawal could have dangerous consequences. ZOE Behavioral Health recommends medicated detox, the safest and healthiest recovery option for users. Heroin detox at our Lake Forest addiction treatment center involves treating patients with medication to minimize withdrawal symptoms and discomfort. ZOE Behavioral Health uses diverse treatment forms to help users' bodies and minds transform towards better health. Our Lake Forest rehab program has given back life to many people and families.
Definition
Detox is a medical term for the process of eliminating harmful chemicals from the body. However, eliminating heroin chemicals from the body comes with severe withdrawal symptoms and side effects. Withdrawal is the body's mechanism for adjusting to the absence of certain chemicals in its systems. Although supervised heroin withdrawal in our treatment centers in Lake Forest is exceptionally safe and healthy, it could have unpleasant effects, especially for heavy and long-term users.
Most users experience withdrawal symptoms within the first six to twelve hours after detox. However, total unsupervised withdrawal from heroin may cause severe side effects within the first two to three days after the last heroin use.
Importance of Detox
Heroin use can have detrimental effects on users' health. Every hit puts the user at greater risk. At Lake Forest rehab centers, we provide heroin detox to clear the harmful substances from users' bodies in a safe and controlled environment with medical assistance. In addition, we supervise all our patients and provide our staff with the tools they need to handle side effects when they occur.
Although some people may decide to detox at home, heroin withdrawal symptoms can be so intense that it may cause them to relapse rather than experience discomfort. Apart from minimizing discomfort, supervised heroin detox at our medical facility guarantees safety and prevents relapse and overdose.
Heroin Detox Process
Heroin detox involves supervised medical assistance intended to minimize withdrawal symptoms and relapse. This form of treatment may or may not involve the administration of medication.
During the intake process, our doctors analyze the patient's condition to determine the level of addiction and create a tailored treatment plan for detox. Typically, we ask the patient or family a few questions to determine:
How long the patient has been addicted
If the patient has received treatment for heroin addiction before
If the patient takes any other drugs
If the patient drinks alcohol and how often
If the patient has any other preexisting mental or physical health conditions
We also perform a comprehensive physical exam to determine the patient's current health status during the intake process. The physical exam, medical history, and general evaluation determine the patient's treatment.
Duration of Detox Treatment
The duration of heroin detox varies depending on several factors, including the severity of the addiction, the patient's metabolism, and the severity of withdrawal symptoms. However, detox usually lasts between five and seven days. Detox for heavily dependent users may last for longer.
Begin your journey towards recovery. Please contact our drug and alcohol treatment in Lake Forest for 24/7 admissions: (866) 507-1048
Zoe Behavioral Health
949-309-2227
23591 El Toro Suite 200
Lake Forest CA 92630 US