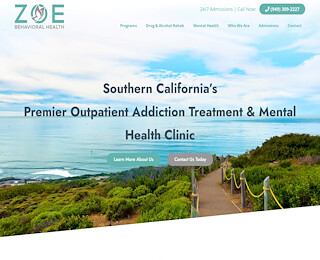 If you or a loved one is struggling with heroin addiction, you may be curious to learn about how detox can help. Heroin detox is the first step in the recovery process. Entering a detox for your heroin addiction can help you or your loved one start on the path to sobriety. In this post, the ZOE Behavioral Health addiction specialist has compiled a list of frequently asked questions about our heroin detox Lake Forest.
What is heroin?
Heroin is an addictive opioid drug. Some people often use heroin along with other addictive drugs. Its overdose can cause slow breathing, coma, and even death. 
What are the signs of heroin addiction?
Someone struggling with heroin addiction may not show signs right away. Signs of heroin addiction include; flu-like symptoms, weight loss, and decreased libido. Changes in exercise habits, sleep habits, spending too much money on drugs.
How much does heroin detox cost?  
The cost varies based on each patient's treatment needs. At ZOE Behavioral Health, we accept all Insurance to make your heroin addiction treatment as financially feasible as possible. For more pricing information, please contact us at (866) 507-1048.
How do I get help for my heroin addiction?
At ZOE Behavioral Health, our heroin addiction treatment is provided on an inpatient and outpatient basis. Both programs often use proven medications to help get rid of addiction. 
How long does it take to complete heroin detox?
The time a person can expect to spend in our Lake Forest addiction treatment center varies, depending on the severity of heroin use and how long a patient has been taking heroin. Some patients get through heroin addiction in a few days or weeks, while others take longer. 
What type of heroin detox programs do you offer? 
We offer an intensive outpatient program and a partial hospitalization program for patients addicted to heroin. Our Lake Forest rehab also offers outdoor therapy that lets you work through your problems alongside like-minded individuals.
How successful is your heroin detox?
Patients with severe heroin abuse and those who use other addictive substances are more likely to struggle. Some people will need to repeat heroin treatment before overcoming their addiction. At ZOE Behavioral Health, all the patients that visit our Lake Forest rehab center get positive results in our treatment.
How do I prepare for my heroin detox? 
You will be the one to decide your treatment date. Heroin detox begins immediately after your appointment. When you visit our Lake Forest rehab center, a practitioner will talk to you directly to review your medical condition and give you the instructions needed for a successful recovery. 
Help For Heroin Addiction 
Don't let Drug addiction control your life. If you or someone close to you is struggling with heroin addiction, ZOE Behavioral Health got you covered. We provide medically supervised detox services and customized treatment programs for heroin addiction. Please call us at (866) 507-1048 to find out more about our heroin detox in Lake Forest.
Zoe Behavioral Health
949-309-2227
23591 El Toro Suite 200
Lake Forest CA 92630 US