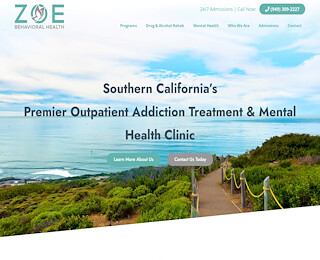 Do I need dual diagnosis treatment in Orange County? Almost all addiction victims ask themselves this question and for good reasons. At ZOE Behavioral Health, we know that co-occurring disorders are difficult to diagnose and treat without professional intervention. So, how do you know if you require dual diagnosis treatment? Here are the things you should remember:
1. The addictive behavior often stems from co-occurring disorders
Our Lake Forest Park dual diagnosis treatment centers have had their fair share of dual diagnosis patients, each with their unique disorders, problems, and addiction circumstances. In almost all cases, their mental problems were intertwined with their addictive behaviors, making it difficult to know what caused which issue. In most situations, however, these individuals have resorted to self-medication to treat their mental disorders.
Since they lacked the necessary training and expertise in the field, their efforts worked against them. The medication that was supposed to help has triggered an addictive behavior, which is common with prescription opioids or benzodiazepines. This shows that self-diagnosing and self-treating your mental disorders carry significant health risks, even triggering substance addiction or leading to life-threatening overdoses.
2. Treating co-occurring disorders is no walk in the park
To treat co-occurring disorders safely and effectively, you need a team of professionals with different qualifications to handle the situation. Our center has experts from various disciplines, including clinical detox, health specialists, Lake Forest dual diagnosis psychiatrists, experienced counselors, etc. They can assess your condition and offer reliable solutions to your problems in a controlled and safe environment.
The dual diagnosis treatment at our drug rehab in Lake Forest requires a personalized approach to reach optimal recovery milestones quickly. To achieve the best results, we rely on medication, counseling, behavioral therapies, and long-term management programs to ensure long-lasting sobriety and healthy living.
3. Chronic disorders never truly heal
You need to understand that, just like addiction, mental disorders are always prone to relapse. All our dual diagnosis alcohol and drug rehabs do is provide you with the tools to manage your disorders in the long run. Many of these problems have no clear-cut cure and require a lifetime of management and relapse prevention strategies. Fortunately, our Lake Forest addiction residential facility has all the tools necessary for the job.
We promote long-lasting recovery from addiction and co-occurring disorders via lifestyle improvements and relapse prevention strategies over the years. At our center, you will learn healthy eating, adopting a more positive and active lifestyle, embrace positivity and optimism, bond with other people, work towards a better career, etc.
These three problems show without a doubt that you need dual diagnosis treatment in Orange County if you show signs of co-occurring mental issues. You don't need to be certain of your conditions; just come to our center for clinical assessment, and our specialists will diagnose your problems on the spot.
ZOE Behavioral Health promotes healthy and balanced recovery from addiction in a safe and controlled rehabilitation environment. Call (866) 507-1048 to contact a rehab expert today.
Zoe Behavioral Health
949-309-2227
23591 El Toro Suite 200
Lake Forest CA 92630 US