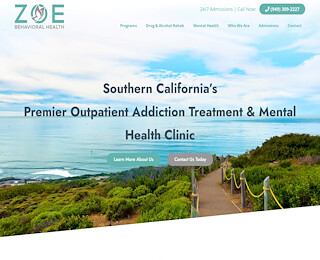 Zoe Behavioral Health is one of the premier dual diagnosis treatment centers in Southern California with proven therapies and a remarkable staff team. With the lowest staff-to-client ratio, we offer unbeaten addiction care in an upscale and comfortable rehab facility.
What is a dual diagnosis?
When individuals with a substance use disorder (SUD) also suffer from an underlying mental health issue or a behavioral disorder, it is called a dual diagnosis. Dual diagnosis is common in over 45% of individuals battling addiction as addiction often stems from an underlying mental problem.
Patients with dual diagnosis often require an integrated treatment plan to attain comprehensive recovery. As one of the top Lake Forest park dual diagnosis treatment centers, we use a combination of medical detox, behavioral modalities, holistic therapies, and support group meetings to address addiction and co-occurring mental issues. By seeking treatment for both the addiction and the co-occurring behavioral disorder, patients stand the best chances of attaining a safe and successful recovery.
Impact of dual diagnosis on treatment
The usual addiction treatment protocol does not work when used in patients with dual diagnosis conditions. While the symptoms of alcohol abuse and mental health illness can be similar, it can be challenging to identify and treat them accordingly. In some cases, patients can suffer from several mental illnesses alongside addiction, making it all the more important to use an integrated treatment plan.
At our Lake Forest addiction residential facility, we concurrently treat alcoholism and co-occurring disorders using a specialized treatment plan to maximize our overall long-term recovery rates. Our mental health and addiction experts work cohesively to help patients embrace sobriety in the long term.
How do I know if I have a dual diagnosis?
The symptoms of dual diagnosis can vary from one person to another. In case of dealing with any of these symptoms, you must meet with one of the top Lake Forest dual diagnosis psychiatrists at the earliest:
Staying isolated from friends and family
Decreased or increased appetite
Lacking energy or motivation to engage in day to day activities
Difficulty in concentrating
Poor performance at work or school or in personal life
Feeling irritated or anxious frequently
At our drug rehab in Lake Forest, we use a combination of holistic therapies, evidence-based treatments, and medication-assisted treatment to address dual diagnosis conditions before they get out of hand.
Mental health issues that develop alongside addiction
Mental health disorders, such as ADHD, bipolar disorder, borderline personality disorder, anxiety, eating disorders, and OCD, are common co-occurring psychiatric problems that occur alongside addiction. Post-traumatic stress disorder and schizophrenia are other common mental health issues that often trigger addiction or develop alongside substance abuse disorder.
Break free from your destructive behaviors and get started on a liberating journey towards sobriety. Zoe Behavioral Health is one of the top-rated dual diagnosis alcohol and drug rehabs with the lowest relapse and dropout rates. Call (866) 507-1048 to join one of the top-rated dual diagnosis treatment centers in Southern California.
Zoe Behavioral Health
949-309-2227
23591 El Toro Suite 200
Lake Forest CA 92630 US