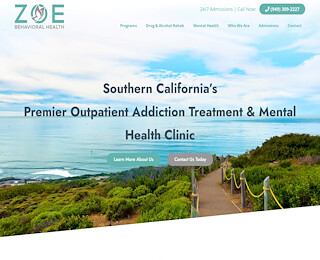 Zoe Behavioral Health is a top-rated rehab facility for detox in Lake Forest with the best amenities, excellent staff team, and highly effective PHP, IOP, outpatient, and sober living programs. Our detox services can prepare you for sustainable sobriety and help you attain a comprehensive recovery from addiction.
Can I detox at home?
While you may think you have the procedure under control, you are most likely wrong. Detoxing at home can lead to deadly consequences, as trying to quit drugs or alcohol without medical supervision can put your life at grave risk. Some of the problems you may encounter include seizures, severe dehydration, dangerous drug interactions, etc., making it impossible to recover safely and effectively.
Medical detox is the first stage in the recovery process and plays an integral role in helping you attain sobriety safely. You must seek help from a Lake Forest rehab for medical detox to prevent medical complications in your journey towards sobriety and ensure improved mental wellness.
Steps involved in detox treatment
The detox needs of each patient can be different, relying on specifics like addiction severity, substance abused, frequency and duration of usage, etc. We offer medical detox at our rehab for drug and alcohol treatment in Lake Forest relying on the following three steps:
Evaluation – Our medical team conducts comprehensive medical evaluations and screenings upon admission. The goal is to identify any physical and mental health issues using blood tests and other medical exams to determine the medication level accordingly. We also conduct a comprehensive review of the drug, medical, and psychiatric histories to create a comprehensive treatment plan for each patient.
Stabilization – The second phase relies on stabilizing the patient via counseling and psychotherapies. Our team of physicians may prescribe specific medications to reduce the intensity of the withdrawal symptoms.
Preparing entry into treatment – In this final stage of the detox process, our doctors familiarize patients with the treatment process and prepare them for upcoming treatment procedures.
Following detox, we engage patients in PHP, IOP, or outpatient treatment to improve their chances of attaining a successful recovery. We are one of the several leading treatment centers in Lake Forest with customized detox procedures. 
How our detox treatment can help you in recovery?
As a leading Lake Forest addiction treatment center, we customize our detox procedure to accommodate each patient's unique needs. Our detox treatment helps recovering addicts in the following ways:
We administer a series of drugs to restore the brain chemistry to its pre-addiction state.
The medical procedure at our best Lake Forest rehab centers reduces the intensity of your withdrawal symptoms and diminishes cravings, preparing you for long-term success with sobriety.
Our detox treatment will flush out the toxins from your system and help you regain control over your mind, body, behavior, and emotions.
Contact Zoe Behavioral Health at (866) 507-1048 to learn about detox in Lake Forest. Our customized detox treatment can help you overcome the painful withdrawal symptoms safely. Do not let your substance abuse disorder enslave you anymore; make the call today! 
Zoe Behavioral Health
949-309-2227
23591 El Toro Suite 200
Lake Forest CA 92630 US